In June of 2014 photo-eye Gallery was honored to have Richard Tuschman's
Hopper Meditations
mark the inaugural exhibition of our new space, and so his second solo show with photo-eye feels like a milestone. In just two short years, photo-eye Gallery has mounted 14 exhibitions and Richard has completed an entirely new highly produced and incredibly detailed project. Tuschman's new series,
Once Upon a Time in Kazimierz
, tells the tale of a fictional Jewish family living in Kraków Poland in 1930 – just about 10 years before the Germans forcibly relocated the Jewish population of Kazimierz to the
Krakow Ghetto
. Like Tuschman's previous series
Hopper Meditations,
the individual images in
Once Upon A Time in Kazimierz
read as film stills with each image representing a scene from a greater open-ended narrative. To complete his vision of a convincing historical fiction Richard used digital imaging to place live models inside of a series of elaborate dioramas he painstakingly made by hand. In honor of the new exhibition, I have caught up with Richard to discuss
Once Upon A Time in Kazimierz
.
– Anne Kelly
Anne Kelly: In the past, you had referred to yourself as "an artist who uses photography"… do you still feel this way or have you started to identify yourself as a photographer?
Richard Tuschman:
By the time I started the Hopper series I was beginning to feel comfortable calling myself a photographer rather than merely "an artist who uses photography". The medium itself had begun to play an important enough role in my thinking and process that the shift in terminology felt right and seemed warranted.
An early diorama by Richard Tuschman circa 1982
AK: As I understand it you made your first model / diorama in the 80's. How has your process evolved?
RT:
The dioramas in the 80's were built as one of a kind wall sculptures, that is box constructions that hung on the wall. The format, if not the content, was very much inspired by
Joseph Cornell
. The space was, by definition, pretty shallow, and the architecture was structurally and esthetically fairly simple.
AK: Your last series was inspired by the work of Edward Hopper (1882 – 1964) - especially domestic scenes in NY, where you live— The new series depicts the life of a fictional Jewish family living in 1930's Kraków Poland, where your wife was born. Please elaborate on the transition between the two series.
RT:
I first visited Krakow in 2010, before I did the Hopper series. I was very moved by the architecture and the sense of history I felt during my visit. My own Jewish East European ancestors are not from Krakow, but my paternal grandmother's family is from Warsaw and paternal grandfather is from the Ukraine, not too far away. I knew that I wanted to do a project that spoke to this connection I felt, but it just did not jell right away, though it stayed with me in the back of my mind. The second time I visited Krakow was in 2013, while I was working on the Hopper series. It was then that the idea of recreating the architecture in diorama form, as in the Hopper series, and creating a story about a fictional Jewish family came to me. So the Hopper series really provided the form for "Kazimierz", though the Kazimierz project feels much more personal to me.
AK: Your new series also draws inspiration from paintings and photography; can you name a few of your primary influences?
RT:
The painters who directly influenced the series would be Vermeer, Rembrandt, Van Gogh, Balthus, and de Chirico. The photographers would be Bill Brandt, Duane Michals, Roman Vishniac, and Alter Kacyzne. Vishniac and Kacyzne were both gifted East European Jewish photojournalists during that era and of that culture. Vishniac was able to emigrate to the U.S. in 1941, but Kacyzne tragically perished in the Holocaust.
AK: It seems that your previous series and new series evoke similar themes such as— solitude, alienation, longing — please touch on this.
RT:
I think largely it is a matter of temperament—I have a pretty melancholic personality. But in addition, I want the images to carry some emotional weight, and these themes, for me, seem to possess that weight. I also like exploring the connection and tension between beauty and loss.
AK: The new series is meant to be an open-ended narrative, but can you tell me a little bit about the cast of characters?
RT:
The principal characters are a Jewish family consisting of a husband, wife, and the husband's mother. The husband works as a tailor and his wife and mother work alongside him, as was common. The couple had a young son who died, but who appears in the series in a flashback and dreams. Then there is a mysterious, somewhat sinister customer, with whom the wife has a brief affair, plus a handful of random neighborhood characters.
A street scene miniature created by Richard Tuschman
AK: You have mentioned that as a child you were fascinated by your parent's and grandparent's family photo albums. I realize that your family is not from Poland, but do memories of the photo albums serve as inspiration for your new series?
RT:
The memories of my grandparents' photo albums very much serve as inspiration, though the plot in the series is fictional. Actually, the plot borrows heavily from an Israeli movie, "My Father, My Lord", about a Jewish orthodox couple who lose a young son, and how religion and grief both bind them and drive them apart. But I remember as a young child looking at the photo albums wondering what the people and their lives were like before I was born. I adored my grandparents, and like many children, I had somewhat naive and idealistic notions of families and relationships. Like any family, mine had skeletons which gradually emerged and I learned about as I got older. Ultimately, this messiness and complexity is an inextricable part of our humanity, and I wanted to express that in the series.
AK: You have been teaching workshops – has this impacted your own work – if so, in what way?
RT:
Conducting the workshops has been a socially rewarding and creatively energizing adjunct to my fine art photography, facilitating a stimulating exchange of ideas, and providing a refreshing emotional counterweight to the isolation of the studio. It sounds trite, but I often feel as if I learn as much or more from my students as they learn from me.
AK: You did a kick starter campaign to fund this series – what was that experience like?
RT:
Before I launched the campaign, I had been cautioned by more than one colleague about how much work and stress would be involved, and in the end, it was a lot of work, and there was a fair amount of stress, but for me, it was absolutely worth it. I received more support and enthusiasm than I anticipated, so this was very emotionally validating, and the result was financially rewarding as well. I am not sure how I would have secured the necessary funds otherwise. I also had so much fun making the
promotional video
, it provided a great excuse to play around with that medium, though I have much more respect now for film directors, editors, and actors!
A street scene miniature with proportional figurine by Richard Tuschman.
AK: Is there anything else that you would like to add?
RT:
I would just like to emphasize that "Once Upon A Time In Kazimierz" is a personal and poetic work. It is not a documentary, and I have taken undeniable artistic license in depicting aspects of Jewish life in Kazimierz in 1930. In reality, as some have pointed out, the rooms would have been smaller, the poverty more acute, the streets during the day would have been more dirty, crowded and noisy. It is not my intent to deny that reality, that level of disillusionment and despair. Rather, I am trying to express that sadness and dark emotion as it is filtered through my own sensibility, in the creative and aesthetic voice that I have.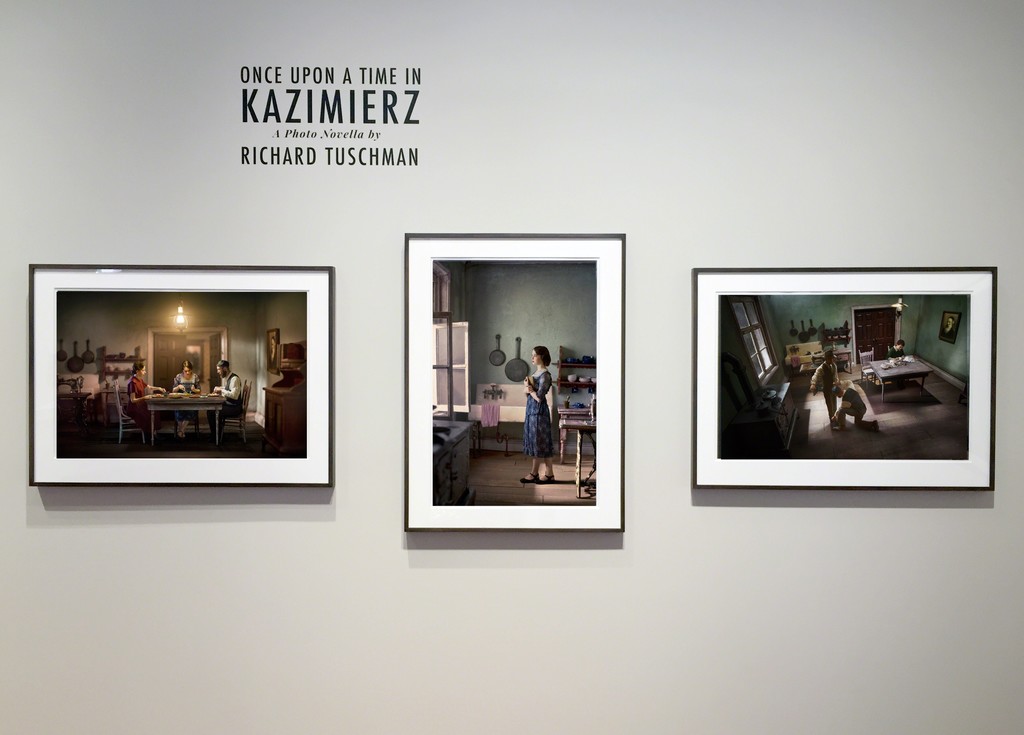 Once Upon a Time in Kazimierz
installed at photo-eye Gallery.
–
Once Upon a Time in Kazimierz is currently on view at photo-eye Gallery through October 29th.
For additional information, and to purchase prints, please contact Gallery Staff at 505-988-5152 x 202 or gallery@photoeye.com.
View Once Upon a Time in Kazimierz
Read the Exhibition PREVIEW by Richard Tuschman
Read Anne Kelly's 2014 Interview with Tuschman about his Hopper Meditations series.