Box of Illusions




Photographs by Re'gis de Gasperi



Witty Books, Italy, 2022. 128 pp., 7¾x9¾".
I pick up Re'gis de Gasperi's
Box of Illusions
at photo-eye two days before I turn 46 (a detail with only minimal interest here). The book is narrow, elegant, softbound, dark. I am intrigued by the energy emanating from the images on my first flip through: a simultaneous frenzy and calm. Silver grains, unapologetic and brash, sometimes cohere into a recognizable form, other times blur into chiaroscuro abstractions.
Heat seeps from the images. A child rolls on the floor. Elevated temperatures emanate from dancing bodies, flailing bodies, sun streaming in through windows. I feel the windows as exits and prisons both. Precision is refused; all is blur, blear, bright murk.
A visually subtle, but very precise insertion of language interrupts the initial grainy reverie with an unmistakable date, timestamped on the side of a page: 16.3.2020. Ah,
that
feeling.
Pandemic parameters arise to surround the images: confinement, the all-too-real limits of a physical space and of our confinement companions. Boredom and the occasional unfocused joy. Moments of beauty and clarity amidst the granular tedium. It feels familiar, how time and space expanded and contracted in unpredictable ways. I note that this quarantine reality feels significantly sexier than my own quarantine reality. Sequences of still photographs splay across the book in multiple configurations, the pacing appropriately irregular. Sometimes we are grounded in the space of a few seconds with multiple feverish frames, other times we are frozen in the slow-motion blur of an extended shutter moment. Charcoal markings show the artist's hand, holding sequences together or teasing them apart.
I finally turn to the essay, entitled
Forty Six (46)
. In it, the photographer ruminates on the age itself (I indulge in the poignancy of our age overlap), on family, confinement, joy, floating, and dreams. The illusions of middle age are confined (boxed), illusions. The sentence I keep returning to, absurdly: "Lucid until then, the narrator bird flapped its well-structured wings and left the scene."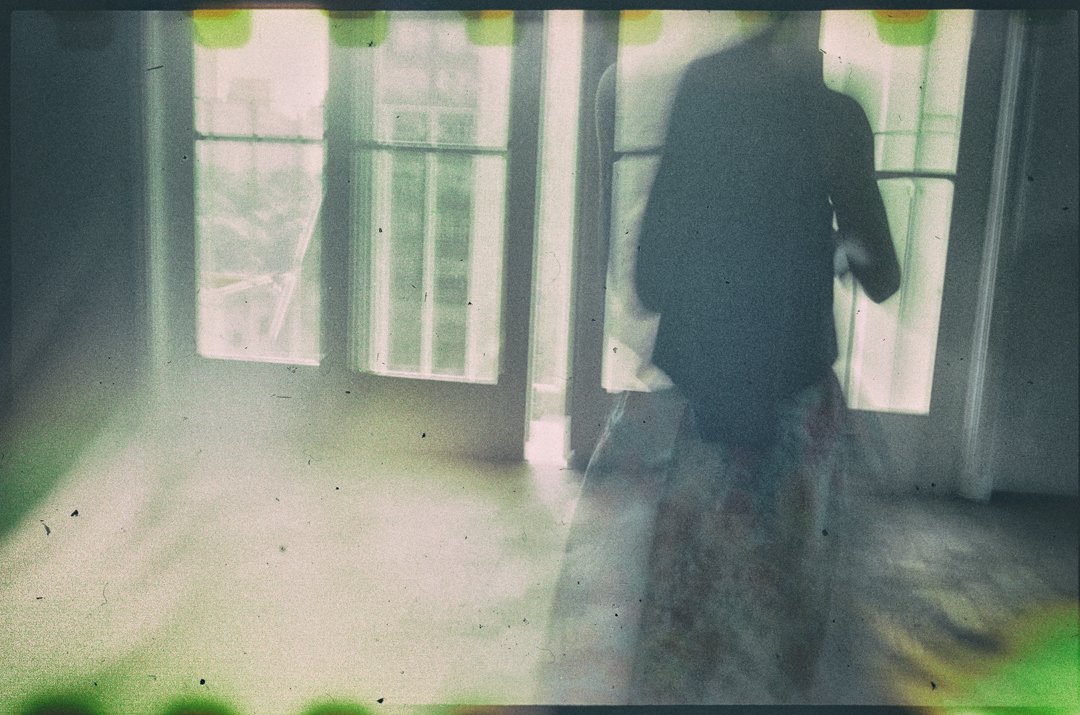 The artist's presence, as editor, voyeur and participant is omnipresent. I try to parse a page of scrawled text, snippets that I want to render poetic, but maybe it's a grocery list. Annotations, both legible and illegible, in multiple fonts, harsh charcoal drawings, and interspersed English and Portuguese, undergird the sustained loving chaos. There is a sense of inscrutability that feels inevitable; surely no one else could possibly imagine how to make sense of our own individual muddles through this insane pandemic context. De Gasperi bares his own box, of both illusions and delusions, and in it I find comfort and pleasure. I leave the book feeling warmed from the Brazilian sun and chaos, though vaguely wishing that the narrator bird would flap back in to guide my own 46th year.
Purchase Book
Read More Book Reviews
Meggan Gould
is an artist living and working outside of Albuquerque, New Mexico, where she is an Associate Professor of Art at the University of New Mexico. She is a graduate of the University of North Carolina at Chapel Hill,, the SALT Institute for Documentary Studies, and Speos (Paris Photographic Institute), where she finally began her studies in photography. She received an MFA in photography from the University of Massachusetts — Dartmouth. She recently wrote a book,
Sorry, No Pictures
, about her own relationship to photography.